Courtesy of FineArtNotebook
Photo Credit: Aparna Jayakumar
Our deep but brief dive into the heart and minds of art world influencers.
During a recent interview for FineArtNotebook.com with the brilliant and glamorous Bernice Steinbaum, she made the suggestion that I meet Bibi Baloyra, the new Executive Director at the Bakehouse Art Complex, I didn't ask why, I said when. That's what one does with Bernice because there's no doubt that the person she wants one to meet is going to be interesting. That's an understatement when it comes to Bibi Baloyra.
We spent some time at her office talking about upcoming exhibitions and events and then she took me for lunch at L'epicerie at Wynwood where we had exquisite quiche and a side of roasted tomatoes. I didn't go home empty handed, instead I stocked my larder with baguettes, croissants, quiche and more along with a few darling tote bags for my darling nieces. Eat there if you haven't but it could have been the superb company of Bibi that made the lunch that spectacular. If I'm lucky, maybe Bibi will invite me over again soon!
Stay tuned for a full on interview with Bernice coming shortly on FineArtNotebook – she has lots to share and I hung on every word. Without further delay, here's what Bibi had to see in response to our Glancing Deep Questionnaire.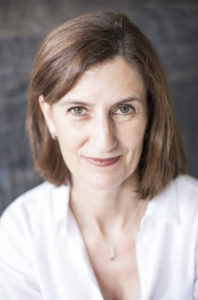 Dindy: What's the first artwork that you had a personal connection with?
Bibi: A sculpture of 81 carrots made by an MFA student in NYC that I eventually bought and hung in my Ft. Green brownstone in Brooklyn. The installation was on a metal grid with black rubber stoppers and it was the perfect embodiment of industrial and organic as far as I was concerned. I still have it and after having moved around a bit, I am still asked "where are are The Carrots? Where are you putting them in this place?"
Dindy: Who or what are you following on social media?
Bibi: I am an Instagram junkie. My favorite feeds are arabictypography and sandylamu.
Dindy: What quality is essential for success in the art world?
Bibi: I am sure that quality escapes me and I hopefully make up for it with practicality.
Dindy: Have you ever stolen anything from a museum gift shop?
Bibi: As a Recovering Retailer there is one one response. Never.
Dindy: What is your favorite museum restaurant? Who would you bring there, living or dead?
Bibi: The cafe at the Museum of Islamic Art in Doha, Qatar. Gertrude Bell.
Dindy: What's your favorite traditional or non-traditional spot for art?
Bibi: Anything in the public realm, like Miami's Underline project.
Dindy: What would you do if you won the lottery?
Bibi: Travel. More.
Dindy: If you could, what artwork would you jump into or become/
Bibi: One of the Elgin Marbles currently at the British Museum, headed home to Athens after more than two centuries of abduction.
Dindy: What's the most romantic or sexy thing that's happened to you in an art location?
Bibi: I met one of the David Sheldrick Wildlife Trust anti-poaching pilots at a UNESCO World Heritage site in Lamu, Kenya a few years ago. Was at a dinner in an open courtyard of a 19th century Swahili house where the bats that pollinate the local baobab blooms swooped in at the conclusion of the meal, to punctuate the magic.
Dindy: Which famous/infamous (or even under the radar) art world figure do you want to meet?
Bibi: Anyone who has risked their life to salvage works of arts and antiquities.
# # #
Related articles